mmi



In the beginning of 1993, about 5 years ago, a smart manager came to the idea to start a boyband. There wasn't yet a famous boyband (Take That just started), so manager Garry Wison decided to select 5 boys from an audition. The demands: Good singqualities, good dancequatilies and most of all: good looking. Aaron Poole, Schelim Hannan, Steve Hart and Dan Bowyer came through the selections.Patric Osborne completed the group.

Patric Osborne didn't like to be with the other guys all the time, so he left the band in August 1993. Two months later came Aaron Cooper to Worlds Apart. Because there was already an Aaron in the band, Aaron Cooper decided to change his name into "Cal". Worlds Apart consisted of five members again:
mmmm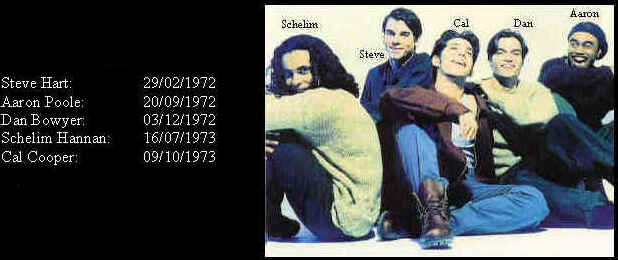 The five boys came to a (cover) song: "Heaven must be missing an angel", which came to number 29 in the U.K. Top 40. After "Heaven must be missing an angel" followed "Wonderful World" and also "Could It Be I'm Fallling in Love". Dan Bowyer left the band so he could do some T.V. work. In the beginning of 1994, after Dan's leaving, Cal, Steve, Schelim and Aaron brought the album "Together" to the market.

Aaron Poole would go for a solo-carreer and he also left the band. Only three guys were in the band. A fourth one had to be found. Nathan Moore was the lucky one, born in Stamfort Hill, London. He 'moved into' Worlds Apart in August 1994. He was the leadsinger of "Brother Beyond" feat. Steve Alexander, Carl Fysh, David White and Nathan Moore. They had the same manager as Worlds Apart, so it wasn't hard for Nathan to change.
The recordcompany Arista en BMG caused many problems in the band and manager Garry Wilson decided to change to the EMI record company.
New songs were written by Nathan Moore and Steve Hart. The first song appeared: "Baby Come Back". The second song: "Everybody".Worlds Apart became famous. Not in the U.K. but in Germany. Steve, Cal, Nathan and Schelim worked hard for a new album. And in 1996 appeared the album called "Everybody".
After the big succes, Worlds Apart tried their album in France. A french/english song appeared, called "Je te donne" which means "I give you". This song became a hitsingle and suddenly Worlds Apart became famous in France. Another french/english song came: "Quand je rêve de toi" which means "I'm dreaming of you". In the end of 1996 the Everybody Special Noel Edition came. The same album as Everybody, but 4 more songs on it: "Everlasting Love", "When it's Christmas Time", "Moving On" and "Loveland".

The third album appeared: "Don't Change" with songs as "Quand je rêve de toi" and Back To Where We Started". Just like Aaron Poole, Schelim Hannan would also go for a solo-carreer. So Schelim left the band, and there were again three members. A fourth one had to be found.

And there was Tim Forara, born in London, raised in Cheltenham, near Birmingham where Cal lives. He has known him for quite some time now. He started singing when he was 9 years old at which time he joined the school choir. Shortly after that he played in his first band called: "Bedspread". Before joining Worlds Apart he was quite busy. He played in various comedies at London's West End and on Broadway. When he returned to London he got an offer to appear in a TV-series called "The One". It starred a boyband just starting up. The series was pretty successfull and the guys decided to release a single, which didn't have the effect they were hoping for. So in 1996, Tim left the band. And then only a few months later, Steve rang him to ask if he would be interrested in joining Worlds Apart. Well, the rest you all know.
Worlds Apart has become very famous in France so again there was a french/english song called "Je Serai Là" which means "I Will Be There".
In the beginning of 1998 the album Don't Change was re-published: the same album but 4 more songs on it: "Je Serai Là", "A Minute To Midnight", "One Day" and "I'll Be Loving You Forever".
The next album will appear at the end of 1998 !!!
mmmmmmmmmmmmmmmmvvvvvvvvvv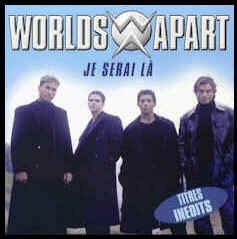 vvvvvvmm
-------------------------------------------------------------------------------------------------------------------------------